651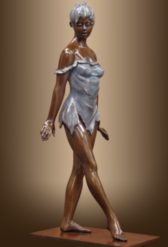 Sculpteur
Welcome

News
The artist
Guest Book
Contact
Book
Collections:
Animals
Bas-relief
Big sculptures
Bustes
Busts
Children
Dances
Groups
Men
Women
The world of sculpture
Search engine
Some sculptors
Sculpture in museums
Quotations
Bibliography
Jean-Antoine Injalbert
19th C. Sculpture

Nella Buscot sur Facebook




Copyright © 2003-2023 Nella Buscot
Nella Buscot > The artist in a few words
Nella Buscot
The artist in a few words
Doctor in University, Pharmacy. Painter, portrait painter, and especially sculptor.
Her works represent, mostly, busts, statues (until 1m40), artistic nudes, animals... The figurative portrait is her principal interest. The terracota sculptures are polished or given a patina with pigments, they can be in bronze or resin if you ask for it. The earth stays her prefered material because of its living nature.

Permanent exhibition :
Paris : Galerie du Marais, 21, Place des Vosges.
Cannes (France) : Galerie Neel, 3, rue du Commandant Vidal.
Saint-Emilion (France) : Galerie "Le passage de la Cadène".
Pictures : Gérard Duvert